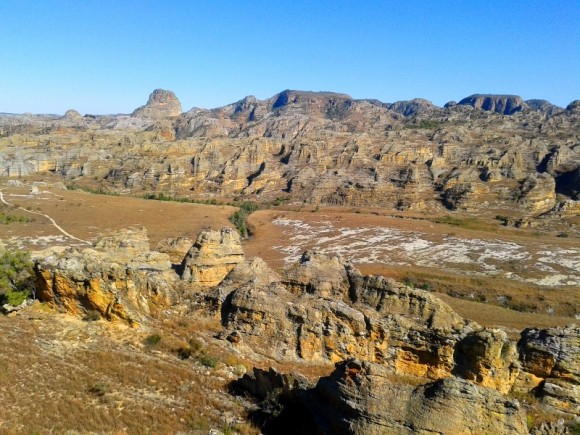 Madagascar is renowned for its beautiful parks, riches in island's endemic flora and fauna. Among the most interesting, we recommend:
In the west of the country, only approachable along a rugged trail, the park of Tsingy of Bemaraha offers spectacular sceneries with its limestone pinnacles eroded by millennia. It's possible to make small climbings and walking through the gorges that open up between the Tsingy.
On the road RN7 to Tulear, is one of the most visited and appreciated parks, thanks to its spectacular canyons and natural pools.
Only 130 km east from Antananarivo, it'is a paradise for botanists because of its primary rainforest.
In the north of the country, near Diego Suarez, in addition to the spectacular Tsingys, is home to countless gigantic caves, including the overvisited Bats' cave.
Only 50 km from Diego Suarez, offers the possibility of pleasant walks in its conifers in search of the smallest chameleon in the world. Six lakes and many rivers cross the perimeter, making this park a heaven of freshness to escape the sweltering heat of this region.
spazio
Situato tra gli altopiani centrali nei pressi di Fianarantsoa, ospita una grande ricchezza di biodiversità endemica ma in pericolo. Vi si trovano specie di lemuri rare ed in pericolo di estinzione.
Where the forest meets the sea. On the peninsula of the same name, it's the largest protected area in the country, despite being out of the classic routes. From July to September you can spot whales in mating.
A hundred miles south of Fianarantsoa, home to the Pic Boby, the highest and most accessible peak of Madagascar. The nature, the tradition and the mystery that hover around Andringitra, make this park a mystical and panoramic spot to discover.